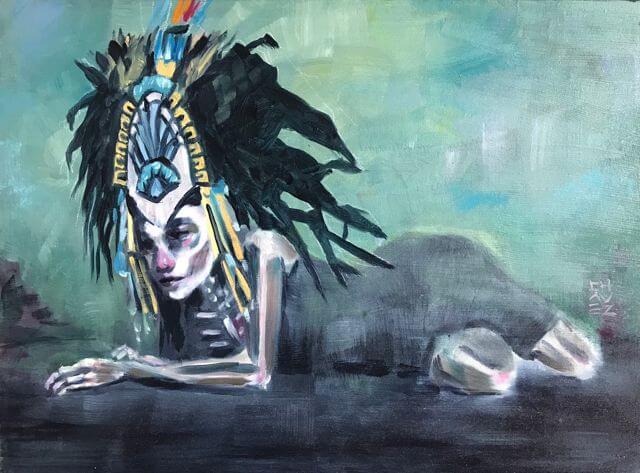 Alex Chavez was born in Los Angeles, California. But he lives and works in Taos, a town in New Mexico, the birthplace of his mother. He graduated from College of Fine Arts, California State College Fullerton, and started his artistic work with watercolors and acrylics. He changed his medium to oils when he moved to Taos in New Mexico.
His artworks focus on the inherent ephemerality of life and its beauty – that while death is always around the corner. It reminds his viewers that life is something to be celebrated. His oil paintings on canvas and wood panels are an extension of his Mexican heritage and Central America's Day of the Dead festivities; showing skeletal and pale character, yes somehow flushed and vibrantly rooted in the realm of the living. His art asks its viewers to hold both life and death in one hand.
His work has been acquired by multiple public collections including the International Folk Art Museum, Santa Fe; the National Hispanic Cultural Center, Albuquerque; as well as the notable purchase of a painting for the set of the TV hit series "Breaking Bad." His art was mentioned in many publications, like Illustrator West, Arts & Entertainment Magazine, Direct Art Fall 2011, and more. He also acquired rewards like Award of Merit, Illustrator West 20, Macworld National Tour of 12 Digital Artist 1999, Best of Digital Art, Contemporary Hispanic Market, or Best of Digital/Photography, Contemporary Hispanic Market.
Website (shop included): alexchaves.art
Instagram: Alex Chavez Art
Twitter: Alex Chavez
Facebook: Alex Chavez